Opener Battery Backup-Why It's Necessary
05/25/2015
Back To Blog
The automatic openers we install at Garage Door Repair Magna are equipped with a battery backup. This is what is needed in order to release the component of your garage that allows you to manually operate the doors. It may be necessary for you to manually open and close the doors of your garage in several instances. Primarily, it is necessary when a power outage occurs. This is possible whenever there is a bad storm, hurricanes, heavy rain and other bad weather that brings down your power lines. It is also useful if there is an emergency and you need to quickly leave your home during a power outage. Having a battery backup allows you to move your car from inside your garage anytime power is out.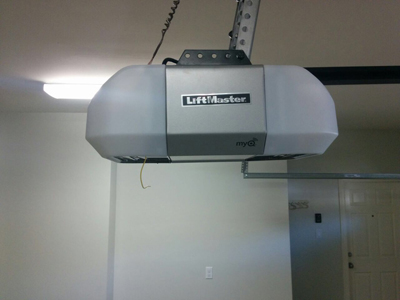 Does Your Opener Offer This Feature
You may be wondering if your opener has this feature. If you purchased your home recently and the garage door opener is a 2006 or newer model, you may have one with a battery backup. Our technicians use openers made by Mastercraft, Sears, Clopay, and Chamberlain, which feature the battery backup. It is unfortunate but if your opener is older than 2006, you can't have it installed on your current opener - you may have to buy a new one with it already attached.

Checking Your Battery Backup

Your battery backup will be useless if it is not operable. There are some warning indicators that will notify you that the backup battery is not working or needs to be charged.

* There will be a warning sound on the opener indicating that you need to change the battery.

* The control panel also has a battery life indicator. The type of indicator will depend on the type of opener you have.

* Check your battery backup by testing your doors without the opener. If the doors do not work, this means your battery backup is not working.

When you notice that this feature is not working, call us immediately and let us make the necessary adjustments so that we can get it working again and keep you safe.

Routine Servicing

One of the absolute best ways to prevent the battery backup from becoming inoperable is to have it routinely inspected by one of our service technicians. They will take into consideration the fact that your opener is equipped with this feature and will make sure that is working. If you want to be sure that this feature is working, you may even ask our technician to check the device in your presence. When you receive our professional services, we'll do what we can to make sure you are able to continue to safely use your garage. It adds value to your home and is a useful extension for the entire family. Why should you take chances with not being able to use it when you need it? We can't think of a good reason and that's why we make it possible for you to continue using it.